Ibiza weather in October is known to have some rainy and windy days, with temperatures going down to 17˚C. On the other hand, the climate in Ibiza is usually mild, with temperature rarely dropping under 0˚C, though rain is also possible during the winter months of November to April.
However, according to some local folks, the rain usually happens for only three days at a time and the clear, blue skies can frequently be seen the rest of the time. The weather in May can also be a bit windy, especially during the evening, so having a light jacket with you will also help.
Nonetheless, no matter how small, the chance of getting yourself caught in days of rain while you are on your trip is still a possibility. In that case, it won't really be the weather that might spoil your trip, but your attitude towards it.
So instead of getting yourself worried about the rain even before you set on your trip and feeling sorry about it afterwards, why don't you try to learn to embrace the rainy weather instead?
The 8 things that you can do when it is raining in Ibiza
To help you with it, here are…
1. Have some rest and recharge
Regardless of how you get to Ibiza and the length of time you spent travelling, the days you spent in planning and preparation, shopping for clothes to wear and things to bring, and researching for fun things that you might do during your stay, must be really exhausting.
It's raining! So put your summer outfits away for a while, then go and take advantage of the bad weather. Lie down and smell the newly washed cover of your bed, hug that soft pillow and doze off for a few hours.
Your body needs rest. If you and your friends are thinking of clubbing later that night, you would be thankful you had plenty of sleep during the day.
Maybe you can try to rest under this (top picture) bed with cover in our Villa Bassa Beach.
2. Indulge yourself in a relaxing spa o jacuzzi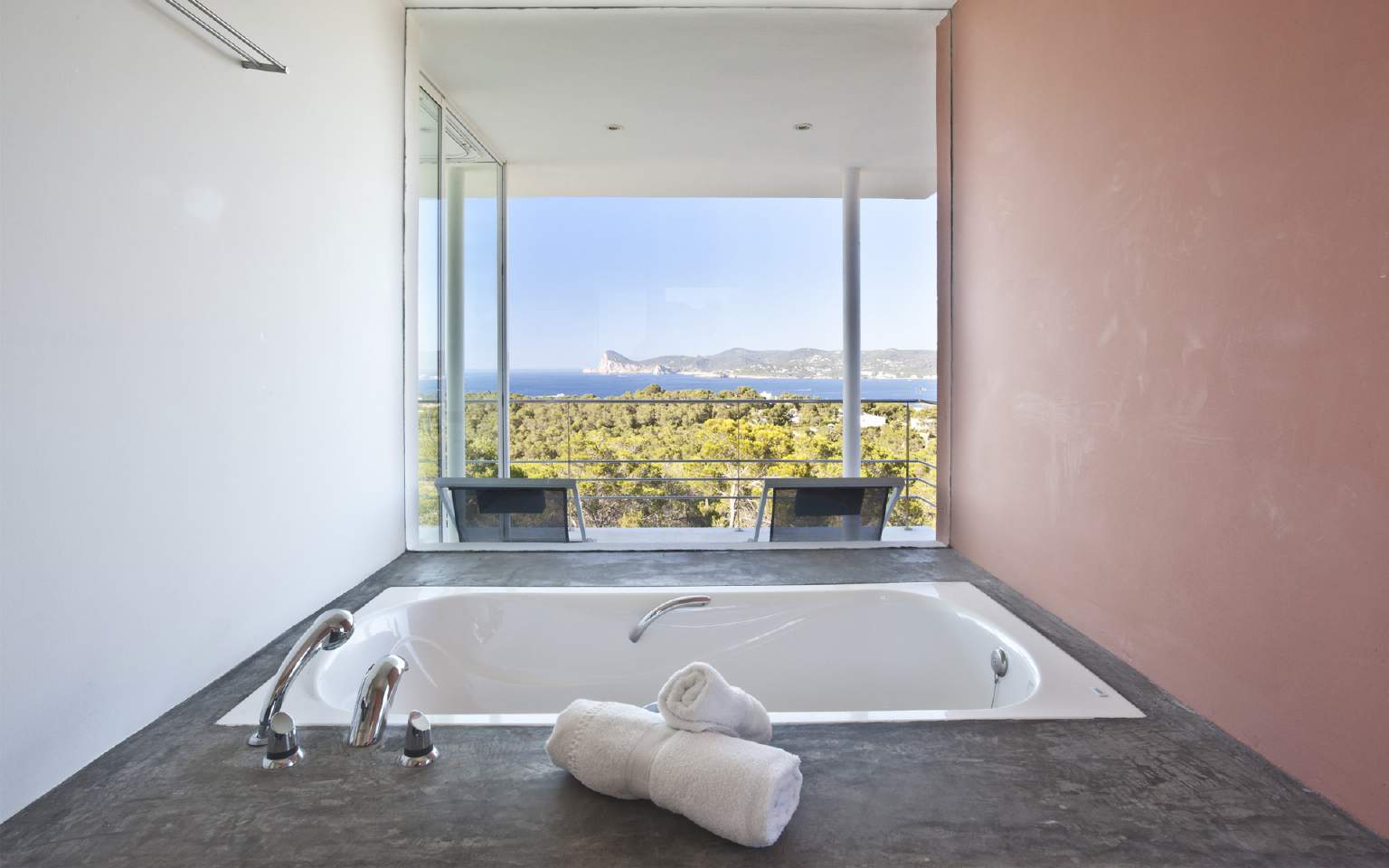 Aside from sleeping, your body can also be recharged by pampering yourself with a relaxing spa. You are truly in luck if you happen to be staying at Ibiza's top luxury villa on the island, as they have jacuzzi also (for example in Villa Sa Claró, the one in the top picture)
So book a spa massage then all you have to do is to lie down and let the experts' magical hands take away your stress.
3. Party the night away or see a foreign movie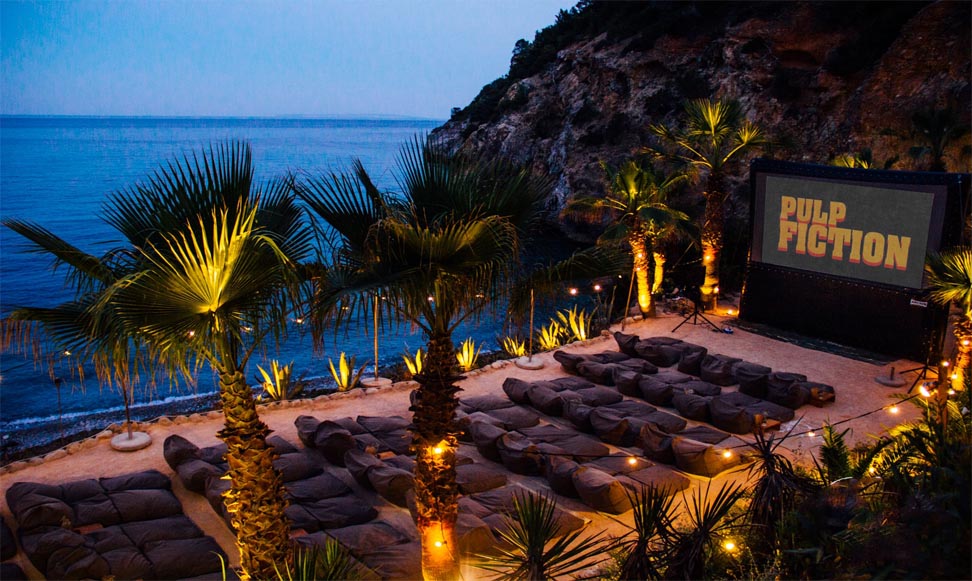 If you are the type who enjoys parties and clubbing until the sun shines, then the beach clubs will surely be a perfect shelter for you and your friends as they have a great selection of fabulous cocktails that you could choose from.
On the other hand, if you would rather spend the night to relax while watching a movie with some of your friends, you can try going to the main cinema complex in Ibiza town, like the Multicines Aficine, which has five theatres that shows the most recent billboard releases.
Though Ibiza is in Spain and the language that will be used in their movie houses will probably be in Spanish, there is also a small cinema screen in San Antonio that regularly shows movies with English subtitles from time-to-time. Thus, it would be better if you would make some inquiry first, before heading out to see a movie with your family or friends. Also in Santa Eulalia you can find a place call Amante Ibiza with an open air cinema, that is good if the rains stops.
4. Visit Ibiza's museums and monuments
Ibiza takes pride in their culture which you can learn by visiting their art galleries and museums, like the Contemporary Art Museum that features the creations of many top international artists, and the Monographic Museum where you can learn about Ibiza's culture-rich Moorish period at the Yabisi Medina centre.
You may also visit the Delt Vila, a town in Ibiza that is old enough to be considered a monument. It showcases small pillars and signs in multiple languages to guide the tourists in learning their rich culture and history.
When visiting museums and other places that are frequented by tourists, it would help to be there by the opening hour. This is to be ahead of everyone else, possibly enjoy the place all for your self and avoid long queue of people that can waste your time.
5. Visit some indoor facilities and enjoy some indoor games
Playing indoor games is fun, especially if you are travelling with your family and the kids. So while in Ibiza, you might want to visit Cap Blanc Aquarium, which used to be a lobster hatching facility in a natural cave. Now the place is a recovery centre for marine animals and a new home to a variety of Mediterranean species.
You and your children will definitely enjoy taking a peep into a microscope while learning new interesting things about marine animals, their roles in the environment and the ways on how you can help protect them.
If you are travelling with teens, they might probably enjoy playing an indoor game bowling at Vilaparc. Aside from bowling, your teens can also enjoy playing other inddor games, like pool tables, table football, air hockey and arcade games.
You can check here: where to stay in Ibiza with kids, if you are looking for some areas to stay.
Snacks and drinks are also available in these indoor games facilities, so your kids and your teens will surely enjoy their stay at Ibiza, despite the bad weather.
6. Shop until you drop
We all know it. Shopping always make us feel much better if we're doing it while we are on a trip. So instead of wasting the rest of the day in your villa rooms and whining about the rain, try to visit some souvenir shops and malls in the quaint town of Santa Gertrudis.
The shoping centre is full of charming stores that sells handmade jewelry, perfumes and clothes.
The kids will also enjoy it if you would buy each one of them a toy that will help them remember about the awesome trip that they had with you at Ibiza.
7. Try authentic, Ibizan cuisine
Aside from visiting museums and monuments, trying the local ibizan cuisine is also a way of learning about Ibizan culture. So hop around the local restaurants, find a place that you can dine in that would be different for each meal, and have a sumptuous feast.
Some of the cuisine that you must try is an Ibizan breakfast of pan con tomate (bread with tomato) partnered with café con leche (milky coffee) or the carajillo, which a long espresso is topped up with brandy to warm your heart.
The Ibizan kitchen offers a wide range of spices with ingredients that compliment the ingredients and flavours of its natural environment.
8. Go to places where the crowds are not going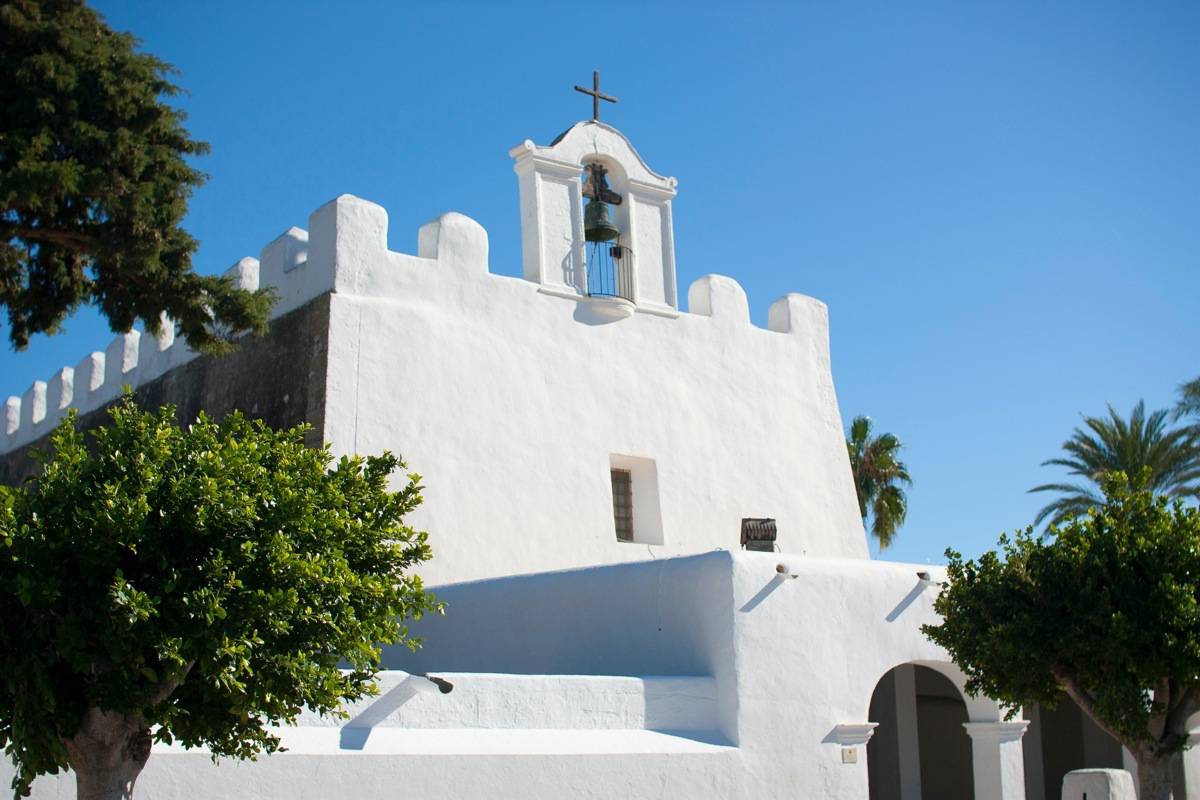 When it rains, a crowd of tourists is always expected to frequent the museums and other indoor facilities. And what could be much better way to enjoy Ibiza's outdoor destinations than to have it all for you and a couple of your friends!
You can take a trip and discover the hidden villages of Ibiza or you can still go out to the beach and enjoy a swim or a couple of other outdoor activities, like playing Frisbee, under the light rain.
So as long as the weather forecast does not include huge tidal waves, thunderstorms and lightning, go ahead and strut that summer outfit! Set out on a little adventure with your family and friends, play under the rain, and get the most out of that Ibizan trip!