Ibiza is a wonderful place to be with your entire family. Traveling to Ibiza with kids of all ages is no issue. There are so many things to do in the island for an entire family to enjoy.
Ibiza is an autonomous community of Spain. It's an island in the Mediterranean Sea, about 93 miles from Valencia.The island's population of 132,637 is usually outnumbered by the flocks of tourists that visit the island annually. With its tranquil and relaxing atmosphere, it's no surprise.
Ibiza has many attractions for both party going travelers and families on holiday.
What to do in Ibiza with kids? A lot!
Where to Stay in Ibiza with Kids?
If you're wondering where to stay with kids in Ibiza, we've got you covered. There are many accommodations to chose from. You can rent Ibiza villas through RentIbizaHolidaysVillas.com.
Our business is to introduce you to wonderful holiday Ibiza villas. Rent Ibiza Holiday Villas believes that traveling with kids should not be a hassle. It should be a memorable family experience. Ibiza Villas will be your perfect rest house after a day of exploration and adventure.
Our company has made sure the custom villas are complete with all the amenities you would look for.  Centralized ACs, WiFi, full communication options, high-end AV systems, gourmet kitchen and globally competitive house keeping staff.
Ibiza Villas on a beach front location are your best choice for accomodation in the island. Where to stay in Ibiza with kids? Here are some of our top suggestions:
1. Villa Ramos 
This villa is set in San Antonio Bay and only a few minutes away from the popular sunsets at the iconic Sunset Bars and restaurants. The property is near the beaches of Ibiza such as Cala Bassa, Cala Salada or Cala Compte.
Villa Ramos has one bedroom with a 4 poster double bed with AC and terrace, a second bedroom has a double bed, AC and terrace, a third bedroom has a single bed and access to the balcony,  and a fourth bedroom is at ground level with a double bed. It three bathrooms, one bath/shower and twin sinks upstairs, a shower room on the lower floor and a third bathroom on the ground floor with walk in shower.
The villa also has two spacious living rooms, luxurious sofas and furnishing plus dining areas and TV. The property also has a swimming pool surrounded by banana trees. The pool has an oasis in the middle. You may sunbathe while your children play in the big terrace. Better yet, you and your family can have a poolside BBQ!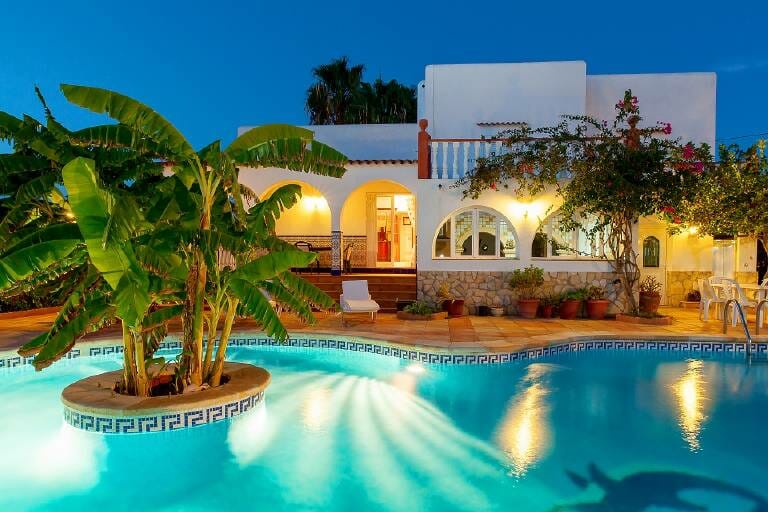 2. Villa Joelle 
This private and charming villa has its own tennis court. It is located in the heart of San Carlos. It is perfect for a group of 12 people. Very private, tranquil and peaceful, it is the perfect holiday getaway for a big family or a group of friends.
Spend a wonderful afternoon in the villa's beautiful gardens and big salt water pool. Our catch up on sleep in one of the four huge bedrooms of the villa. Each room has a king size bed and ensuite showers in the main house. One of the two bedrooms in the guest house has a bunk bed and the other has a queen-size bed. You can also avail of one staff bedroom upon request.
Villa Joelle has six bathrooms in total, a fully equipped kitchen and a spacious living room with a fireplace with underfloor heating.
3. Villa Vista 
 A huge swimming pool, beautiful gardens and a spacious terrace – Villa Vista has all these and more. The grand villa is a secure, private and comfortable place to chill. The villa has a total of four bedrooms.
Two bedrooms share a bathroom with toilet and shower. The other bedrooms have an en suite bathroom with shower, sinks and toilet. The fully equipped rustic kitchen is perfect for cooking family meals. The kitchen also has an oven, microwave, coffee maker and dishwasher. There is also a large 6-seater table with chairs.
Villa Vista has a huge and comfortable living room complete with a chimney and flat screen TV. Best part is the al fresco terraces overlooking the private swimming pool. Spend time on the sun-loungers and chill-out areas or dine in the beautiful gardens full of fruit trees. Unlike the other houses we suggested, Villa Vista allows pets.
4. Villa Vani 
Villa Vani is located in Santa Eulalia. It has a total of four rooms and can accomodate up to eight guests. Close to Santa Gertrudis, Ibiza Town and Santa Eulalia, Villa Vani is the perfect rest house for a family aiming to explore the island of Ibiza. The villa has gardens, leisure areas, bbq area and a huge dining table for eating meals out in the cool sea breeze.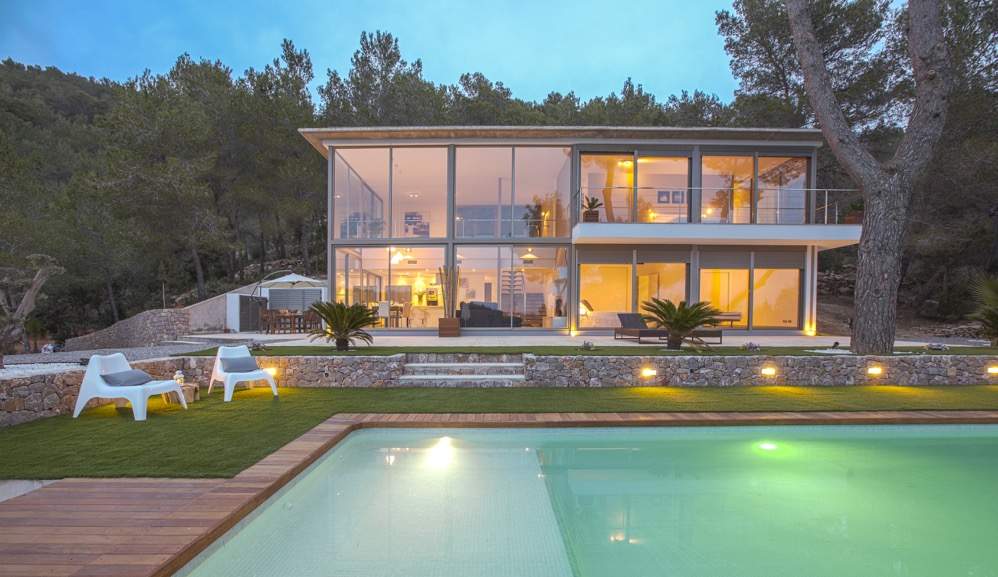 5. Villa Marina   
A two-storey Ibicencan villa with modern and elegant architecture with 5 double bedrooms, 4 complete bathrooms and a very generous living space complete with a fireplace – this is your Ibiza holiday villa. You can avail of our private chef service or cook yourself a masterpiece in the villa's rustic kitchen. Villa Marina is fully equipped with all the modern cooking gadgets you may need.
Travel to Ibiza and have a memorable vacation with the entire family. Call Rent Ibiza Holiday Villas now! Ask about holiday Ibiza villas perfect for your family.
What to Do in Ibiza with Kids
The island is the perfect destination for a family holiday or vacation.  If you're wondering what to do in Ibiza with kids, here's a quick rundown of activities:
Cap Blanc Aquarium
Take your kids to the Cap Blanc Aquarium and they'll have tons of fun seeing and learning about a variety of different colored fishes, octopus and other aquatic life in their natural underwater habitat. Best part is, the aquarium is in this underground cavern.
Located at San Antonio, Cala Gració, you can easily find Cap Blanc opposite the Hotel Tanit down a small pathway. Just ask where the Lobster Cave is. The cave was once used as a storage tank for lobsters, hence the name. Now, it is an aquarium families can visit as well as a recuperation centre for sea turtles.
Can Marca Caves
Visit the underground caverns of Cueva Can Marca with your teens. The cave has an eerie and spooky atmosphere, but you can find stalagmites and stalactites inside.
Check out the marks left by smugglers when they once used the cave to store contrabands in the past. You and your kids will love the beautiful view of the sea from the openings. The Can Marca is open all year round with scheduled tours.
Go on Jeep Safaris
When you leave your accommodations, you can yours kids can go on jeep safaris for 4 or 6 hours. Explore Ibiza's natural beauty off road and enjoy the thrill of hidden tracks. Your kids will have a fun time learning about different plants and animals.
The last part of the safari is some time off in a gorgeous cove in the sea.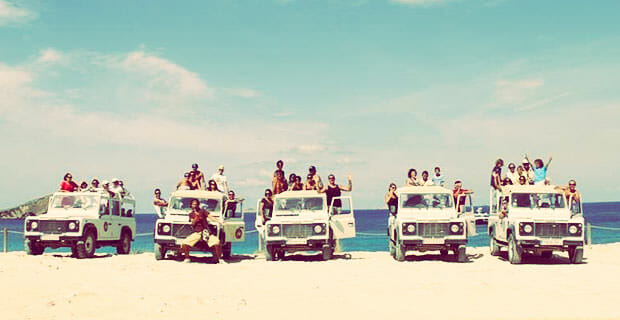 Spend an Afternoon at the Beach
There are plenty of beaches in Ibiza kids will have fun. One is Cala Bassa. It's only 15 minutes from San Antonio on car. Your kids can go snorkeling in one of the many rock pools there and ride pedalos and banana inflatables. Best part is, there are five restaurants to dine at after an afternoon in the beach.
You can also check out Talamanca beach. It is great for families to spend time in thanks to the lifeguard on duty and the beach's shallow shores. The beach club offers scrumptious pastas and wood-fired pizzas too.
There is also the Es Cana Resort that has a beach filled with activities and entertainment for the whole family. It is one of the most beautiful beaches in Ibiza kids and adults alike will appreciate.
The Portinatx beaches composed of three beaches with lifeguards. It is a family-centered destination in Ibiza kids will surely enjoy. Your family can go bowling, go-kart driving or screaming in the white-knuckles rides. There are boat trips as well if you or your kids want to see dolphins and flying fishes.