Are you planning your next trip to Ibiza? Many people think that Ibiza is all about partying, but that is not true. When you go on holidays, you want to know that you can do what you fancy, whether it is relaxing, partying, resting, water sports, hiking etc. And that is what Ibiza is all about, enjoying your ideal holiday.
Now, saying that, what do you prefer? A crowded hotel where sunbeds are packed like sardines in a tin around a swimming pool teeming with young teens doing dive bombs soaking your towel? Nope, that is not an ideal holiday for most. What you need is a Villa of your own, now-that is a holiday!
Villa Ves in San Jose, the Best Spot on the Island
Sant Josep de sa Talaia, which means "Saint Joseph of the Watchtower", is a village sitting on a mountain, as its name gives away, you will have the best views of the island. It is just 11km from the airport, and 17km from the port. If you are planning on touring the island, it might be convenient to hire a car for a few days, but if your idea is to escape from reality and retreat to the villa you can find airport transfers to the villa for 4 people, for more or less €15 per trip.
Although small, you will find all what you need. There are bars, shops, restaurants, a church, and lots of trees, in which shade you can unwind in case you need a break from the sun. Despite being on a vantage point, the locals describe it as a quiet village, not a touristic center, which can give you an idea of what life is like there.
But don't think that it is a boring place, if you have a look at the island on a map, you will see that you can get to the main touristic points really quickly from the Villa. What activities can you do? Where can you eat? What beaches can you visit? Let's talk about that now.
San Jose Map
The Environment in San José
Have you ever been in a typically Mediterranean forest? Its Olm-oaks and pine trees control the heights while many bushes sit lower, on the ground. All of them pour their scents into the air to create an inspiring atmosphere. From time to time, a breeze of air from the sea reminds you that you are very close to the beach. In the background the cicadas sing, letting everybody know it is hot. Some people like lightly scented candles at home to relax them, you don't need that here, you have the scents for real. Areas with woods mix with cultivated areas full of fig trees, almond trees and even carob trees.
From the villa in San Jose, you can quickly get to some of the best beaches and coves (or calas in Catalan) in the island:
Cala Molí
This is a small pebbly cove, just 15 minutes from the villa. If you come here, you come to rest. Its rocky sea bottom makes it ideal for snorkeling. And when you decide that you have had enough of sunbathing, you can retreat to the beach club and eat or have a drink. Because it is protected as a "natural resort" by the town hall, you will never find it overcrowded with tourists.
Cala Tarida
Just 10 minutes away, you will stumble upon this beautiful cove. Cala Tarida has fine white sand with turquoise crystal clear waters. It is a family-orientated beach, with shops to buy inflatables and cheap snorkeling equipment. There are also a variety of beach bars along the beach and the renowned Cotton Club where you can dine at leisure.
San Antonio Bay
This bay is full of gorgeous coves and beaches; each one is different from the next. Es pouet, s'estanyol, pinet beach, or cala bou are some of them. The best thing to do is to hire a small boat (or big yatchs) and explore the beaches at your leisure.
Cala Bassa
If you happen to be in San Antonio, you can take a Ferry to this beach, or if you are in Villa Ves, you can just drive, it will take you the same amount of time, just under 15 minutes. This touristic beach has all the commodities you can imagine, including wooden paths so that you don't have to scorch your feet on the golden sand when it gets hot. The waters are crystal clear and there are lot of water activities to do here.
In Cala Bassa you will find many bars and restaurants offering a wide range of foods from Mediterranean food to even sushi! Add to that some shops and boutiques, and top it all off with chill-out and deep-house music of DJs that perform all day long. You could have your perfect beach day!
Cala Hort
This is one of the best coves in the San José area. Although it is a small beach, it has many of the commodities other beaches have, like restaurants and boutiques, but it is less crowded.
There are also 3 very good restaurants, all worth visiting.
The bad news is that you have to wake up early to get there to find your spot before a pack of people come. The good news is that Villa Ves is in the Cala Hort area, so you can just walk down to the beach!
Activities in the San José Area
Hot-Rod City Tour
These noisy go-carts will make everybody turn around to look at you. They look like a typical hot-rod but just smaller. For less than 50 € you can hire these and tour the city with your friends, as long as you are 18 or over and you have a driver's license.
Water Activities
The list is endless. You can go diving, or have a diving "baptism". If the depths of the sea are not for you but you still like seeing fish then snorkeling would be a great option for you, or you could hire an underwater propeller, called Bladefish, to overtake the fish as they swim. If you don't like being in the water, you can hire a boat to skim over it, or a flyboard to fly over the water. You can also do surfing at the Surf Lounge, or ride on an inflatable boat, jumping over the waves.
Take Off! There are several activities that will take your feet off the ground. Parasailing pulled by a boat, or even challenge yourself with a cliff jumping course, where the instructors will teach you how to successfully jump off a cliff into the water. You name it, you can do it in Ibiza.
Of course, in addition to all of these water activities, you can also hang around on the beach with your friends, go to a bar or eat out in a restaurant. In a 10 km radius you have at least 20 good restaurants to choose from, being able to try local cuisine or exotic dishes, it is up to you.
Villa Ves
Nestled in the beautiful Ibizan countryside, you can easily fall in love with the tranquillity and luxury that this idyllic villa provides. The mountain views will captivate you as you enjoy a dip in the pool or a session of relaxing on the terrace sofas. You may not feel like taking the brief walk to the beach when you settle into your safe haven, Villa Ves. If you were looking for villas in San Jose Ibiza, then this is the best villa in terms of location.
Villa Ves location
This beautiful villa hidden in the woods is just what you need to find peace, relaxation and a change of pace. Beaches and restaurants are anywhere between 9 minutes and 35 minutes' drive away, with the closest beach about a 13-minute walk away. You will be extremely happy with this villa.
The villa is built following the local country-style, with white walls to make it cooler inside, sheltering you from the heat in summer. It is large enough to accommodate 10 to 12 people comfortably. Its 5 bedrooms are distributed over 2 floors which many find ideal.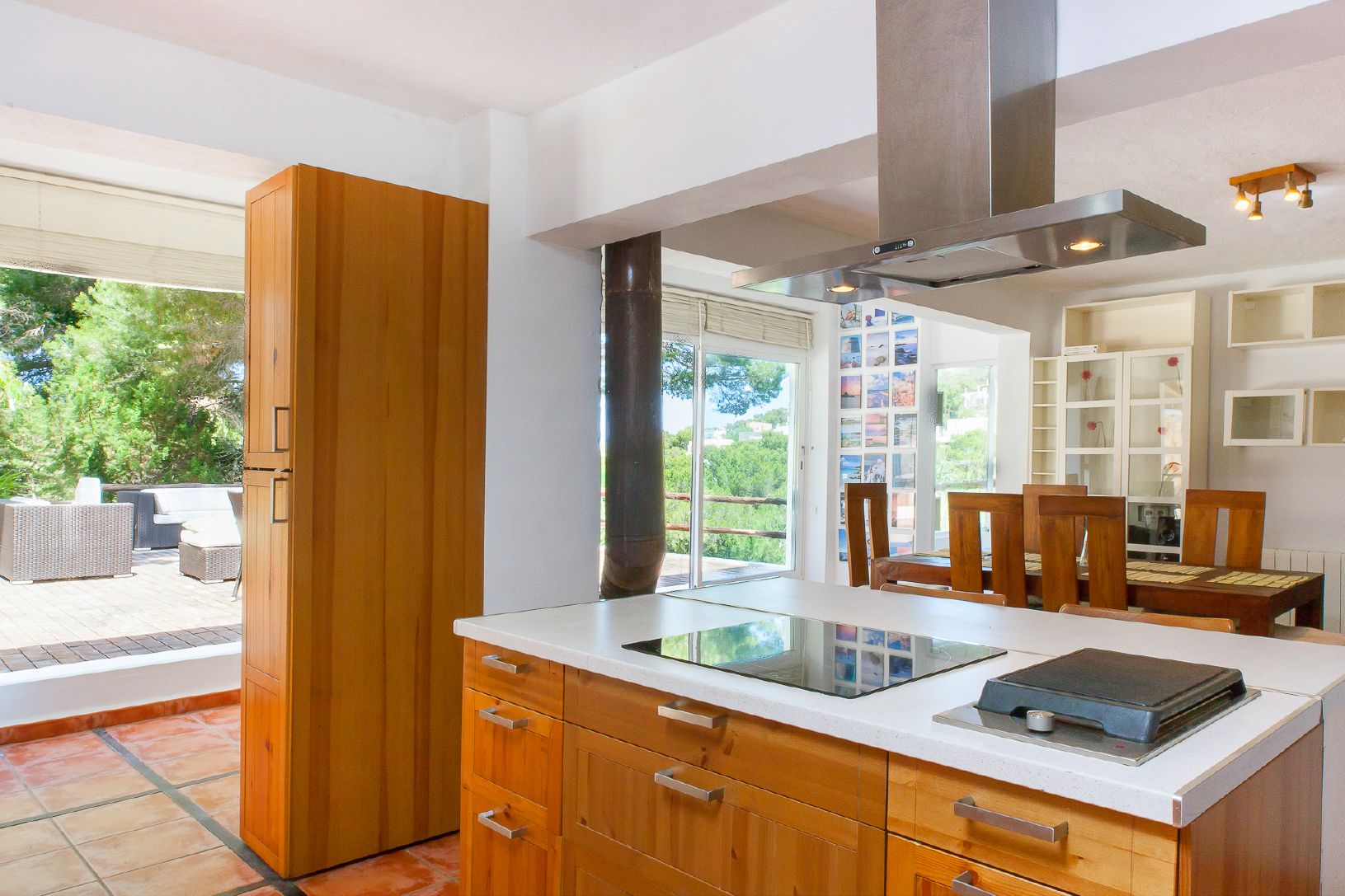 The Villa is in Cala Hort area, so you can choose between diving in your private pool or diving in the sea, you can cook like at home, or book a table at a restaurant and just walk to it. You will wish you had a hammock at home after chilling every day for a siesta or a read of a good book while swinging gently in the Villa's hammocks. For those more activity-minded, the villa also has a table-tennis table. There is a television complete with movies and series for those that love to be entertained indoors.
You will wish that you had checked out holiday rentals San José a long time ago. It is better late than never, secure your next holiday today in villas near San Jose Ibiza for a totally enjoyable experience.