Ibiza is an archipelago along the Mediterranean Sea. It is recognized worldwide for its beautiful and ecstatic wildlife. It's like Coachella every night. All in all, it is a great destination for people looking for a place to party, drink, dance, enjoy trap music, and just simply let go. However, Ibiza has so much more to offer than just illuminating dance floor lights. Ibiza is also an amazing vacation destination for the whole family, including grandma and grandpa, because there are luxury family villas they can enjoy staying in.
Ibiza offers many lookout areas where you and your family can enjoy the sunset and sunrise, as the rays set the ocean ablaze in bright yellow. For people eager to visit this beautiful Island with their kids, here's your ultimate travel guide on the fun things you can do here:
Fun at your own villa
If you're looking for the best family villas to enjoy your holidays, make your way to Ibiza. Of course, adults can also enjoy some cool activities with their kids and family, enjoying the private pool, walking arround the nearest beach or climbing up the secure montain to see all together the sunset. Who says villas are only for relaxation?
Bicycle riding around the mountains
After a lovely breakfast, make your way to the nearest mountain from your villa. It's the perfect opportunity to go bicycle riding with all the members of the family. All the places are exceptional, especially during the morning. Just before you check in to your lovely villa, enjoy the fresh breeze, the variety of colorful flowers, and the beautiful vista of green fields and blue water.
Bicycling is a booming business in several towns in Ibiza, so put away your car keys. Rent or bring your own bike and start pedaling your troubles away. Just make sure to wear protective gear. If you don't want to ride a bike, go for a jog. Explore the clean streets surrounded by amazing flora.
RENTIBIZAHOLIDAYVILLAS TIP: By the way, we recommend you go to the tourist office of Ibiza. There are collected each and every one of these 21 cycle routes. They will provide you with information with maps, brochures, sections, distances and all the necessary data to cover the route with your kids adn with tranquility
Shopping at the Es Cana Market
Es Cana Market is better known as the hippy market for creative minds. This is also the best place to get souvenirs for your relatives and friends back home. Handcrafted accessories, trinkets, handmade clothes, and groovy sunglasses are a lot. Visit the market during a Wednesday for hundreds of stalls are open for business.
There are also local artists here. Why take a picture when you can have someone paint a portrait of your family? There's also a free thinkers market, which might awaken the creative or innovative spirit within your children.
Playing at The Acrobosc Playground
Just a few kilometers near Es Cana is the Acrobosc Park, a playground haven for kids from 2 to 15 years old. This natural park has been turned into an obstacle course for all ages. The children can enjoy running around obstacle tires, swings, tree houses, and even zip lines.
There's a whole day of endless fun. There is also an adult circuit consisting of zip lines and free fall. If you want to spend the night having a romantic dinner with your wife, bring your kids here during the day. They will sure hit the sack after supper.
Going on slides at The Aguamar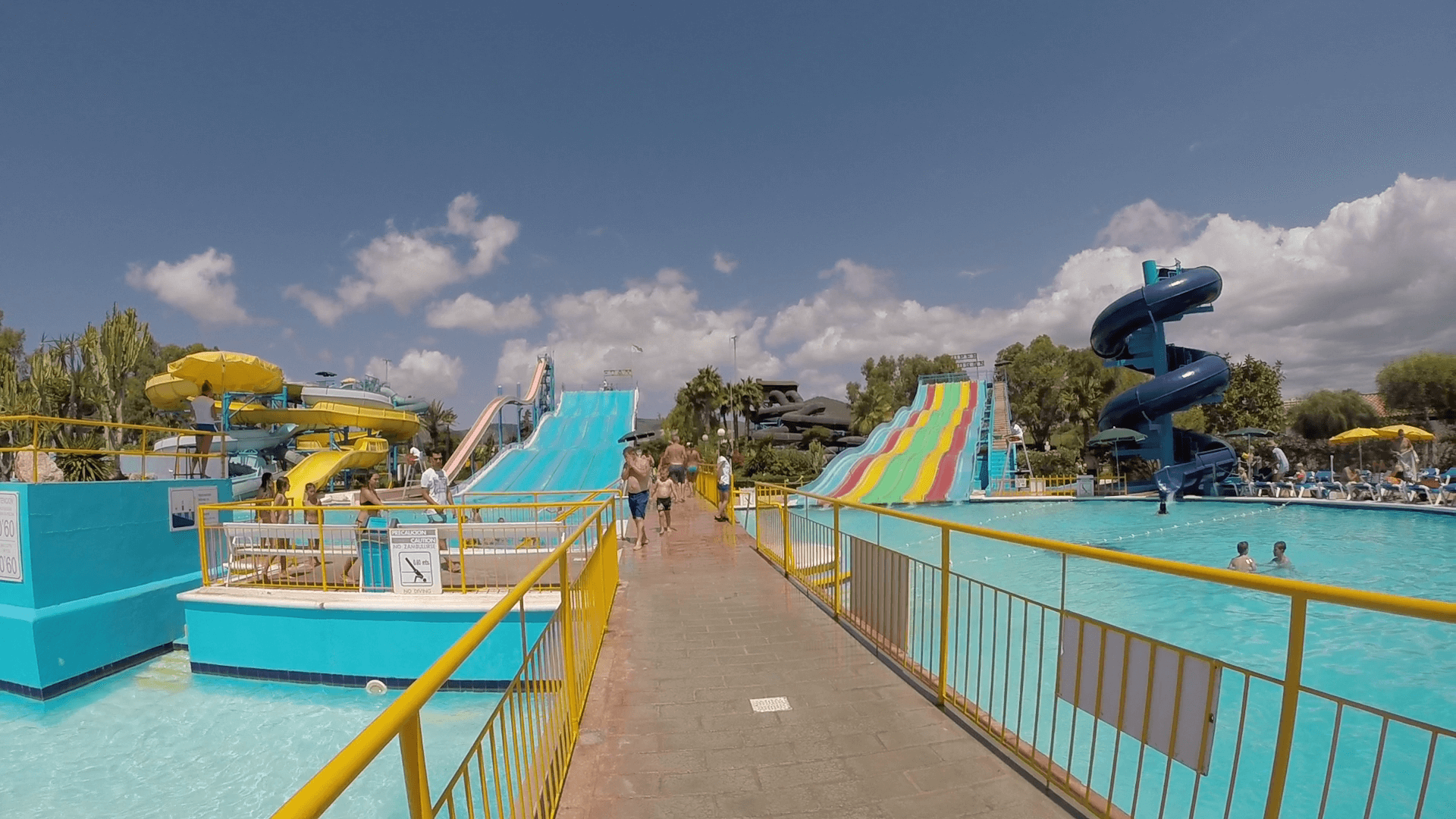 This is the best water park in Ibiza. The Aguamar is advisable for toddlers, as it has little kiddy slides. Of course, the kamikaze slide is for the bigger daredevil kids.
Water fun at Sirenis Aquagames
Sirenis Aquagames is the home of  Aquafun and Aquatubo. The Aquafun is an open slide for toddlers with adult supervision. The Aquatubo is one of the best slides in the world. It is a high-speed slide with a tornado loop and free fall. Both water parks have water jets for kids who are aged 4 to 10 years old. Lifeguards are on hand to ensure their safety. Each swimming pool also has its own theme like the Pirates, Atlantic, and more.
Both Aguamar and Sirenis Aquagames serve breakfast, lunch, and supper buffet. Adults are also going to have fun in these water parks because, believe it or not, they surely bring out the child in you.
Snorkeling at the Formentera Beaches
Formentera is another island near Ibiza. They have white sand and turquoise waters, truly a paradise in Europe. Here, you can get away from the crowd and noise of the outside world. The kids will surely have fun with their goggles and snorkels as they see the marine life beneath the water. They can also go fishing with the local fishermen. In addition, the seafood menu in Formentera is exquisite and mouthwatering.
Visitors can bring their jet skis, canoes, or sail boats and just be one with the sea. Getting to Formentera is easy with the Aquabus transportation service. You can drift away into relaxation under the open sun and magnificent ocean. Formentera is another island near Ibiza, but it has been considered one of the top destinations in the area. It is also called "Ibiza's Sister" and is the smallest Balearic Island. Summertime here is unforgettable. The idea of Ibiza for families during the summer is brilliant.
Dining at SA Capella
Now for an amazing dining experience, SA Capella is the place. It's cozy, has a  beautiful setting, friendly crew, and amazing food. SA Capella was an old church turned restaurant with an inside and outside setting. The inside setting is the old church and just outside are tables surrounded by a beautiful garden. SA Capella serves delicious Spanish seafood, Mediterranean, or International Cuisine. Their Broccoli Soup is the perfect partner for their Fillet Steak.
SA Capella also serves the best shakes made with fresh fruits. Likewise, the ingredients for their food selection are locally grown — fresh from the farm to the table. Dining in Ibiza doesn't get any better than this. The price rate is also affordable and every penny is worth every bite.
Fish watching at Cap Blanc Aquarium
Take the kids to see a living museum of the most beautiful aquatic creatures to ever exist. Colorful school of fish, playful rays, and more marine creatures are something to behold. There's an aquarium by a smuggler who had a loving passion for lobsters. He then turned it into a habitat for lobsters, better known as the "Lobster Cave." Local fishermen also filled the aquarium with more species to create an indoor ocean for injured aquatic creatures.
The entrance fee costs only a few Euros (check it here out), and visitors can even feed the fishes. The locals and visitors consider Cap Blanc an unusual and weird aquarium, but that isn't a bad thing. The only unusual part is that the aquarium used to be eerie but is now full of life. Cap Blanc is only a small aquarium, but it has brought a great amount of joy to thousands of people. Little kids are surely going to enjoy a trip to this one-of-a kind fish tank.
360º Aquarium Cap Blanc view
Ocean strolling on the Yellow Boats
One of the best things to experience in Ibiza with your family is the yellow boats. These are motorized boats that are rented for strolling along the ocean. Almost all of the beach resorts in Ibiza have yellow boats stalls–Cala Conta, Bassa, and Cala Salada.
Take your pick, and roam around the turquoise sea. Wear the captain's hat, and be the leader of your own boat. Take your family to great destination spots like hidden caves, snorkeling areas, and even small islets. Most visitors look forward to the Ibiza wind, the adventurous breeze that takes people on a beautiful boat ride. Make sure to bring your floater and diving gear. Find a great spot around the middle, drop the anchor, and take a refreshing dip. It is true that the ocean in Ibiza takes people's worries and stress away.
There is one more important reminder
This is a must see for everyone planning to visit Ibiza. Watching the sunset from your villa or terrace is beautiful, but seeing the sun go down above the sea is divine. You can actually feel the sun rays warm your skin. That short moment when you and your family watch the rare scene as another day unfolds makes you appreciate all the wonderful things in life.
So if anyone tells you that Ibiza is all about the "Night Life," they are wrong. Everyone is welcome in Ibiza, not just the night ravers and party people. It is all about luxury family holidays Ibiza, although luxury is not about big expenditures but the abundance of excitement, fun, and amazing sceneries all around. So this summer, forget about Hawaii or Cancun. Ibiza is waiting to entertain and embrace more visitors. What more can you ask for in a dream vacation with the family? Water parks, great hotels, aquariums, boat ferries, white sandy beaches, and welcoming people.
Vacation time in Ibiza isn't limited to these 10 great destinations. There are other hidden beaches and great food spots here. This list will serve only as your guide upon arrival in the island. So get your passport, pack your things, take your family with you, and escape from the loud world.