Ibiza is a popular place that tourists visit during the summer because it's Europe's night life capital, the playground for many well-known international DJs, and the island with so many lovely beaches are so. It's not really a popular destination in the winter and a lot of resorts, hotels, restaurants, and bars are closed during the winter. So why spend the New Year's Eve in Ibiza?
Although Christmas season is low-key in Ibiza, parties are never out of season in Ibiza. There are parties all year round including Christmas season.
Here are the reasons to spend the New Years Eve in Ibiza:
1. Relax at the Villas
You will need a lot of energy to survive the night's activities and last until the morning so to conserve it, head over to one of the luxurious villas offered by the island. Relax and enjoy and marvel in the beautiful sceneries brought about by these villas be at a view of the beach, the countryside, the sunset, or even the palm trees. Most of these villas have swimming pools as well for you to relax and enjoy either with your family or friends.
If you are not into parties and you bring your family to Ibiza over the new year, this is also the perfect way to spend the holidays with your family.
Check out Ibiza Villas such as Villa Ben Parit which is a perfect place for the family. It offers a special promotion of 15% discount exclusively for families with kids when you book up to 90 days in advance. The villa is of typical Spanish style with a pretty veranda and archways. It has a cozy living room with a chimney. The bedrooms are spacious too. It also has a lounge with a built-in bar for you to enjoy the celebration.
Villa Can Sala is close to a wide range of local amenities like the hippy markets, shopping center, bars, and restaurants. It offers an excellent home theater.
Have a view of the mountains from the swimming pool area built in a wooden terrace or enjoy nature's finest as you walk through exotic gardens with pines, palm tress, bougainvilleas, and cactus that are located next to a pond where you can feed orange fish.
If you prefer a view of the cliffs and the beach, you can check out Villa Océano . The home has an open, airy layout which lets natural light flow throughout. It has 4 spacious bedrooms. You can have your meals al fresco if you want. The pool is located in the terrace where there are sunbathing chairs too.
2. Family Time
New Year's Eve in the whole of Spain is a family gathering, just like Christmas. This is the day when families gather around and dress up. For most of the guys, it's the only time of the year that you will see them in a suit or in dinner jacakets. Women have their hair done to match their lovely outfits too which they usually purchase just for the event.
New Year's Eve family dinner usually means a seven-course dinner with all the trimmings. Familes usually go to those luxurious restaurants with sky rocketing prices. That's the reason why they dress up. These restaurants just like Lio, Laurelito and La Velada, offer fancy and high class food.
The prices are really expensive but Lio, for example usually includes a ticket to Pacha. The dinner is followed by an evening of booze, dancing, and all kinds of merriment.
Though a lot of families go to these expensive restaurants ,there are still restaurants that serve a set menu and different kinds of dishes at an affordable price. Clandestino offers a set menu for only €25 per head where they offer a cozy place to dine with a well-designed interior and with matching open-log fire.
Villa Mercedes in San Antonio offers a New Year's Eve special menu for just €85 which includes unlimited beer and wine until midnight. Nagai Sushi Restaurant serves sushi just for the Christmas season. Samovar will serve brunch on New Year's Day from 11:00 am and will serve free flow cava for a price of €20 per person.
3. Crazy Traditions: Salinas Swim, Noche Vieja, Las Uvas
Head over to the unusual sporting event held on New Year's Eve at 4:30 pm at Salinas Beach. There is an annual race/ sea-dash up to the Cathedral where a gathering of about a hundred people strip down to their swimming outfits and storm out into the freezing cold sea. The reward is a glass of pink champagne and a lovely picnic.
Some of the restaurants are open on New Year's Eve. They serve Noche Vieja menu which means old year dinners. At around midnight, they hand out 12 grapes to be swallowed as the clock strikes 12. This Spanish tradition is known as Las Uvas. Each one has to swallow the 12 grapes at the rate of one grape per second. If you succeed in finishing all 12 grapes in 12 seconds after midnight, then you are guaranteed to have good luck for the year to come.
The restaurants clear the tables afterwards to give way to people who are dancing. Some of them head out to small bars and clubs to enjoy the rest of the night.
4. Fiesta All the Way
If you are one of those who love to party and want to experience the night life, you are in luck as Pacha Ibiza, the most famous club in the world, throws out the biggest party of the year on New Year's Eve.
If you want to experience partying until sunrise, Ibiza is the perfect place for you and New Year's Eve is the perfect time to experience it too.
If you miss the party at Pacha on New Year's Eve or if you still have a lot of energy for another party, you can head over to Circoloco's New Year's Day party at DC-10 for another night of partying. Gates open as early as 3:00 pm. Dance to some of the best underground tunes to welcome the New Year. They always have an incredible line-up of of DJs who play all through the night. The party goes on until the early hours of the morning.
There are a lot of other bars and clubs that give out New Year's Eve parties too like Sandy's Bar, Hard Rock Cafe, and Underground.
The town's councils lay out night buses for everyone who wants to enjoy the night without having to worry about going home. You can catch the bus at any of the hot spots in the island. These buses run until dawn. So what are you waiting for? Go out, dance the night away, and let Ibiza take care of you as you go home.
5. Fireworks
New Year is never complete without fireworks. Ibiza town features a little overhead pyrotechnic show. Fireworks start at midnight and go on beyond midnight. Ibicencs love showcasing colourful airborne explosions where tons of gunpowder are shot into the air.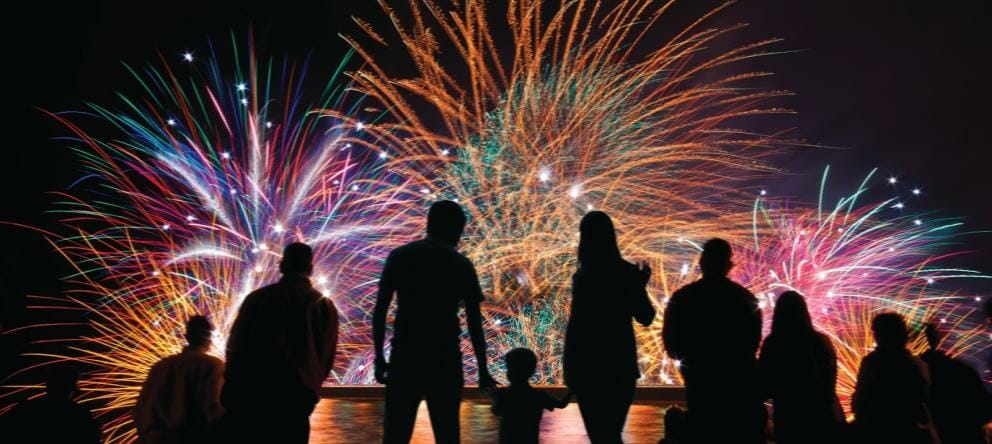 6. Explore the Exotic Island of Ibiza
The weather is nowhere near as warm as summer, but it is mild and sweet where people can still enjoy walking or biking during the day without wearing a jacket.
Winter is the perfect time to bask in the beautiful beaches of Ibiza. Ibiza is more quiet, less crowded, and also cleaner during the winter. It's also the best time to explore the countryside and the architecture. You can get to walk along a deserted beach.