Ibiza offers the finest things in life such as luxury resorts, lovely luxury villas, super clubs, fancy restaurants, luxury tours, VIP experience and activities. Ibiza is after all one of the most sought after centres for worldwide upscale tourism. It is but right to make a fashion statement while enjoying a glamorous vacation in Ibiza. Visitors are then expecting to find exclusive shops and entertainment while in the island.
Ibiza is a popular holiday destination for many famous people such as celebrities, professional athletes, DJs, artists, musicians and a lot of others who can afford glamorous and luxurious vacations in the island. There are a lot of global designer brands that are available on the island be it as pop-ups, carefully curated fashion boutiques, or absolutely surprising locations. Here are the top places for luxury shopping.
By the way and before you start reading the post, most of these places are nearby to our villas in the town center of Ibiza.
Ibiza Marina Botafoch
Ibiza Marina Botafoch is one of the most glamorous shopping areas in Ibiza. Some of the biggest names in the fashion industry can be found in this area.
You can find some of the most exclusive stores on the central boulevard such as Blue Ibiza, a local brand, Arias, which offers a selection of the best international fashion brands, and Ermanno Scervino, an Italian luxury clothing store that you shouldn't miss when in Ibiza.Stella McCartney and Giuseppe Zannotti can also be found in this area as a pop-up store.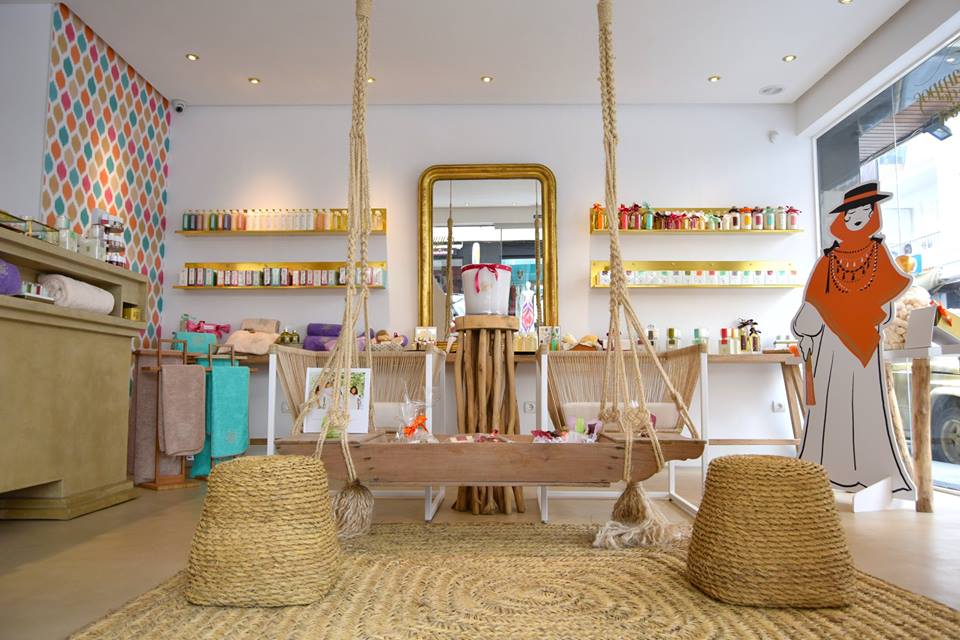 Stella McCartney
Stella McCartney is a seasonal pop-up boutique that is open from June to October at the La Marina Botafoch just in front of the harbor. The exclusive boutique caters to women's luxury needs in the island such as ready-to-wear clothing and accessories.

Kurru Kurru
There are two Kurru Kurru boutique locations in Ibiza, the first store located at Ibiza Town's Marina Botafoch and the second one located at Pau Brasil, a Brasilian restaurant on the road to Santa Gertrudis.
It's a sexy and sophisticated label. The owner and fashion designer Marinela, takes private shopping appointments, gives advise on cuts, colours and materials, and keeps a stock of some delicately chosen partner brands from abroad to pair up with her own creations. This is where you can find one-of-a-kind eye-catching pieces.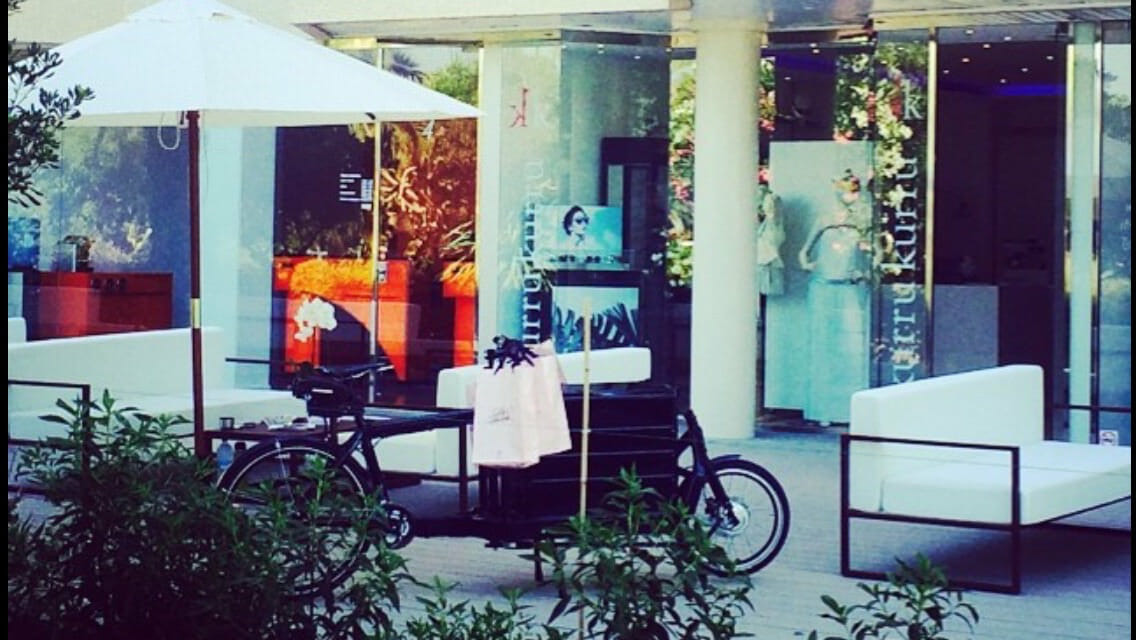 Geisha Atelier
Geisha Atelier is located in Ibiza's world-heritage old town, Dalta Vila. It's a multi designer brand store that sells garments that are all made in Italy. Geisha Atelier offers trendy, high-luxury and sophisticated clothing and accessories that are long-lasting and can be kept for a lifetime. It features classic but modern fashion and top quality items too.
Mayurka Ibiza
There are two places in Ibiza where you can find this 30 year old high-end designer brand, one is on the Passeig Vara de Rey while the other one is on the Av. Ignasi Wallis.
This heritage shopping location is lead by Maria Antonia Vadell and her daughter, Mercedes Bonet. Maria Antonia Vadell is one of Ibiza's fashion royalty who used to work for Ad-lib, the iconic Balearic brand before coming up with her own line. She is the first one to bring international brands to Ibiza.
You can find the hottest designer brands here such as Marc by Marc Jacobs, Alexander Wang, Escada, Kenzo, Giuseppe Zanotti, Alice & Olivia, 3.1. Philip Lim, Moncler, Valentino, UGG, Mimi Et Toi, Tkees, Lily and Lionel, Mou, Balenciaga, Michael Kors, Stella McCartney, Equipment, Maison Scotch, Reiko, Paul Smith, Isabel Marant, IRO, Gianvito Rossi, Etro, Missoni, Swildens, Zadig & Voltaire.
This shop offers everything from everyday casual wear to bohemian style clothing, and even high fashion dresses.
Sluiz Ibiza
Sluiz is a place worth experiencing in Ibiza for its fashion, home decor, and food. The fashion department mixes its own brand with well-known international designer brands like Missoni.
The store is filled with unique designs and a lot of colours. The place also offers outdoor restaurants where you can enjoy food. You can also stroll and check out the other departments.
Designer's Best
Located at the heart of Ibiza Town is a minimal retail space called Designer's Best, owned by a well-known international style expert, Mujda. Mujda was able to bring avant-garde high fashion labels such as Manish Arora and Alexander McQueen into Ibiza because of his connections in the industry.
Designer Best stocks up on international luxury brand names and haute couture brands and also Mujda's own designs and collaborations with other artists. If you are looking for innovative, artsy, and fresh style, this is the perfect place for you. 
Victoria Deny Ibiza
Jewelry designer Victoria Deny is based in Milan but decided to put up her first store in Ibiza. The shop features matte-finished wares designed by Victoria Deny such as necklaces, rings, and bracelets made with 24K gold, rhodium plated silver and sterling silver, and some with hand-cut precious stones and brown diamonds.
Coal Boutique
This boutique contains hard-to-find European designer brands such as Grinko (Milan), Zinzhan (Paris), Antoni & Alison (London), and Leitmotiv (Milan). It sells clothing for females such as dresses and evening ensembles.
Dune Boutique
Dune Boutique is a beach-side boutique that is highly curated with high-end and refined luxury items. It is considered by some as one of the most exclusive beach boutiques in Ibiza because of its brilliant selection of unique jewellery and clothing that cannot be found elsewhere in the island. It is located at Il Chiringuito, a short drive from Villa Can Jordi.
Nassau Beach Boutique
The Nassau Beach Boutique on Playa Den Bossa is a must-see boutique store for tourists who have fine tastes. You can find stylish bikinis and flowing colorful kaftans here at Nassau Beach Boutique.
Kiera Boutique at Sa Punta
This chic boutique is located at the end of Talamanca. It's not as popular as the other boutiques but it preserves a sense of exclusivity. Ibiza is well known for its bohemian style and Kiera Boutique adds glamour and elegance to this style. You can find here stylish clothing with sparkling embellishments which you can use at the beach or even wear at the night club.
Antonioli
Antonioli is located in a matte black warehouse in Ibiza's art district. It features chic, trendy, and futuristic clothing styles that look like they're fresh off catwalks. It also offers world-known exquisite brands such as Jimmy Choo, Givenchy, Fendi, and Marcelo shoes and accessories. It has a lot of black ensembles, lovely textiles, interesting cuts with matching tremendous price tags.
reVOLVER
This store is known to stock up on designer brands such as Alexander Wang, Alexander McQueen, Victoria Beckham, Vivienne Westwood, Phillip Lim, and Maison Martin Margiela. This store offers cutting-edge clothing for both sexes and expertly curated accessories too.
Vicente Ganesha
This is the oldest fashion boutique in Ibiza town. It offers vintage clothing collected by the owner during his travels. There are rails of fascinating and antique pieces and also lovely beachwear that are heavily beaded. They also offer soft leather sandals.
What is nice about these luxury stores in Ibiza is that aside from offering the well-known international designer brands in the island, they also feature local brands and products of high quality and of glamorous fashion too.
There's a balance between the imported and exported items in the island. It's not the case for many countries and it's something that's good about Ibiza being proud of its very own talents. Ibiza is a shopping haven.