Everyone dreams of living in a really nice home preferably made of glass with an access to the beach or to nature. You probably have imagined your dream house to be a glass house on top of a cliff with a pretty nice view of the beach, the countryside, and of course the sunset. But then reality sucks because you know that it would cost you a lot to build a house of this kind unless you are truly rich and you can spend lots of money and have your dream house built to your own liking.
Don't fret. You can still live your dream. You can live in your dream house for a couple of days or maybe even for a week in one of the world's most beautiful islands, Ibiza. And the perfect occasion to do this is during your honeymoon.
After spending the most special day of your life with the one you love, the best way to cap it off is to spend your honeymoon in Ibiza. Traveling to Ibiza is very convenient as there are a lot of connecting flights from almost anywhere in Europe. There are a lot of accommodations to choose from anywhere but the most recommended ones are the villas in Ibiza.
Ibiza is not just about the parties and the night life. Ibiza offers a coastline with around 50 beaches or so. It offers a scenic stretch of the sun and sand beyond the drinking and dancing. It makes for a perfect destination for your honeymoon.
Choosing the perfect villa for your honeymoon in Ibiza can be quite tricky as there are too many options all of which are great in their own ways. So to help you narrow down your selection, we have chosen a few picks for you to suit your interests.
Beach
The pristine beaches with white sand is one of the reasons why Ibiza attracts a lot of tourists especially during summer. A perfect romantic getaway is spending some time with your loved one at the beach, enjoying the calmness of nature, listening to the waves as they crash upon the shore, walking on fine white sand, and holding each other while watching the sunset.
Villa Le Plaisir is a charming and very spacious villa that gives you a beautiful view of the Mediterranean Sea and the landscaped gardens of San Miguel. It is walking distance to the beach where you can enjoy watching the majestic sunsets while listening to the rhythm of the drums at Benirras Beach. It is also conveniently located near the local markets and a selection of the best restaurants like Nagai, Ses Ecoles, and Bambuddha. Aside from the outdoors, the indoors are great too as this villa features luxury furniture. The kitchen is spacious and well-equipped too. You can spend a lot of time in the swimming pool and even dine al fresco where the dining tables are located by the porch.
If you are up to luxurious living with a panoramic view of the Mediterranean Sea, Villa Pepa is the perfect place. The villa is very stylish as it has been decorated by great interior designers to with a combination comfort and luxury in mind. It offers total privacy with lovely views of the outdoor from large terraces. The kitchen is state-of-the-art which leads to an al fresco dining area where you can have a view of the sea. As it is made of glass windows, the whole villa gets natural and amazing lights from the bright sun rays during the day to the colourful tones in the sky during the sunset. The lighting provided by the waterfall and pool positioned between the trees and the rocks in the garden create the perfect romantic setting for your honeymoon. The villa has a spacious open-plan living room which includes a sliding glass door to give access to a lovely terrace with sunbeds. The living room has a fireplace too.
Architecture
Ibiza is known to be an artist's haven. The architecture is also remarkable. Enjoy Ibiza's architecture not just in the old town but also in the comforts of your honeymoon villa.
Villa Alexa is designed using Ibiza's architecture. It has an infinity pool and an outdoor jacuzzi with a porch and BBQ dining area just beside it for you to just chill and relax. The kitchen is fully equipped with Siemens household items. The living room has a fireplace.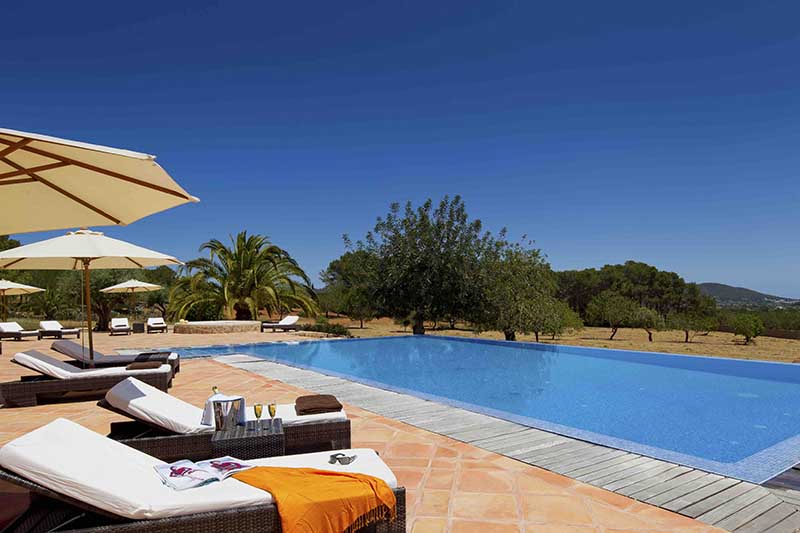 If you prefer a modern villa with stunning views of the world heritage old town of Dalt Vila, stay at Villa Alexandra. It's located five minutes from Ibiza town where you can dine or party if you want. It's an elegant house with two large terraces offering beatiful views of the sea. It has a large swimming pool, five bedrooms, five bathrooms where two have bathtubs in them, two fully equipped kitchens, and an open living room.
Villa Monti is a typical Ibizan house made of sabina roofs and whitewashed walls. It is located in the middle of San Miguel mountain. It's a quiet place where you can enjoy the sun and rest without having to hear all those party music. The beach is accessible. It has four rooms, four bathrooms, a fully equipped kitchen, an outdoor jacuzzi, BBQ, football, billiard, and pingpong table.
Countryside
Honeymoon is best spent where there is peace and quiet and where you can just enjoy the breathtaking views of mountains and nature with the love of your life. Away from the crazy night life scene of Ibiza are some villas located at the countryside that give you the perfect place to relax and unwind.
Villa Pau de Baix is a large country house located in Santa Inés. It offers nice views of the mountains and countryside of Santa Inés. The house is surrounded by trees, beautiful gardens with plants and Mediterranean vegetation, and of course nature. It has four bedrooms, three bathrooms with rustic style wooden furniture and grey marble tiles, a living room with a chimney, a big rustic kitchen with a traditional oven, a swimming pool with sun beds, a BBQ area, and an orchard with fruit trees.
Villa Bobbie is the perfect place to have a staycation as you get to have a feeling of tranquility and privacy. The villa is surrounded by so many trees giving you a feeling like you are in the middle of a forest. It's conveniently located near supermarkets and the famous west coast sunset beaches. It has six bedrooms five bathrooms, and a fully equipped kitchen.
Ibiza has more to offer than night-life and the best way to enjoy the beaches, the sunset, the architecture, and the country side is by staying at one of the lovely villas spread across the island to suite your preferences and of course your budget.