Ibiza is famous for its legendary parties, crazy night life from sundown until sunrise, electronic music, lovely beaches, and summer club scene which attracts a large number of tourists during the summer seasons of June until August. Ibiza is a popular destination in the summer. Ibiza is Europe's favorite nightlife city and is also a playground for many world-known DJs.
Winter in Ibiza is another story. Winter in Ibiza is mild and pleasant with days that have warmish temperatures of 20°C. Snow is very unusual in Ibiza but the wind gets cold at night and it may rain at times. The island is peaceful all throughout winter. Some of the Superclubs are closed during this season and they only open during the summer season. Many of the resorts, hotels, restaurants, and bars are closed during the winter too because of the lack of tourists. Ibiza is not so popular a destination during the winter and less flights are available or there are hardly any flights at all unless you fly through Barcelona, Madrid, or Palma Mallorca.
Ibiza in December is different. Christmas in Ibiza is different too. What people don't know is that Ibiza has a lot to offer in winter especially during Christmas. After all, Christmas is one of the most festive seasons so check out what Ibiza has to offer. Here are 5 reasons to spend Christmas in Ibiza.
1. Christmas in Ibiza is Family Time
Christmas is the best time to spend quality time and enjoy the holidays with the family. Ibiza is the perfect place to spend some family time. Christmas is low-key in Ibiza. Of course people in Ibiza still exchange presents and have dinners but they don't have crowded malls with crazy sales and all those frenzy Christmas commercial traditions.
Ibiza has a delightful tradition of spending Christmas with the family so it's normal in Ibiza to see four generations celebrating the festive season all together either at home or at any of the lovely Ibiza restaurants. There is a big emphasis on family time during Christmas. Christmas is all about relaxing with your loved ones, exchanging modest gifts, and having leisurely meals all together.Experience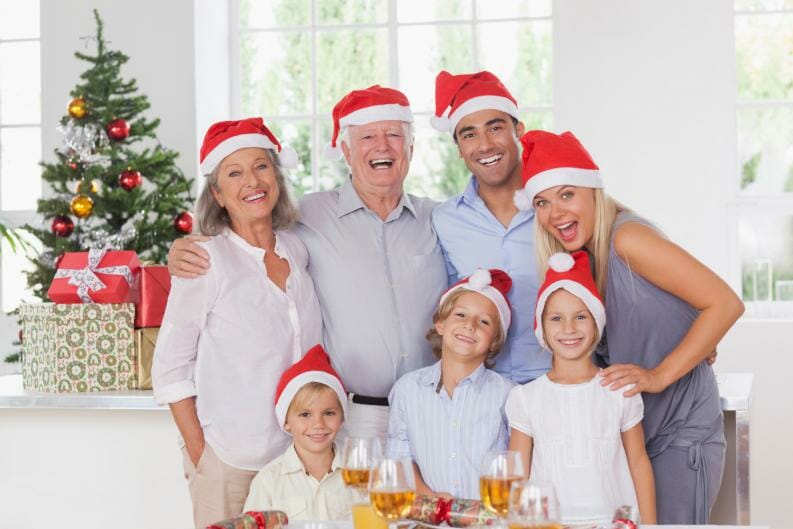 2. Breathtaking Views in Ibiza
Ibiza is an island set amidst the Mediterranean Sea making it a popular destination in the summer. Ibiza boasts of more than a hundred miles of coastline featuring around 50 beaches and scenic views all around. Since it's a popular summer destination, most of the beaches are crowded too.
Winter is the perfect time to explore the island either by car, by bicycle, or by foot. You can enjoy long walks at the 50 or so beaches that are uncrowded or even almost deserted. Isn't in nice to have a sunny Christmas walk along the beach? You can enjoy sunbathing in the afternoons too when the temperatures hit around 20°C. There are nature trails all around which lead to virgin forests, cliff-tops, and some of the beaches. Enjoy watching the sunset from the cliff-tops or enjoy birdwatching too.
Aside from exploring nature's finest, Christmas is also a great time to explore Ibiza's UNESCO designated old town and marvel at the lovely architecture all around you. You can climb the steep cobbles going to the cathedral and the castle, also have breathtaking views, and maybe meet locals too.
3. Enjoy Christmas Markets and Christmas Dishes
Although there are no crowded malls in Ibiza during the Christmas season, there are a couple of Christmas markets everywhere which is a common tradition in most European countries. The Christmas markets open a couple of days before Christmas and it is decorated in the colours of the season and anything and everything that is Christmas. You can find a lot of stalls selling clothing, accessories, antiques, decorations, and a whole lot more. You have a wide selection of things to choose from and give as gifts to your loved ones.
Kids can also enjoy the activities that are set for them and even a meet-and-greet with  Santa while the adults enjoy shopping. This isn't an ordinary market. This is actually a Christmas Market show where they showcase exhibitors, street artists, DJs, and other performers where people can enjoy watching while feasting on delicious food and cocktails.
Aside from the Christmas markets, check out some of the restaurants that offer a wide selection of Christmas dishes and specials. Try out these seasonal dishes that will make you feel the spirit of Christmas. Some of them serve traditional Christmas cuisine while some serve Christmas set menus. Winter is also one of the best times to get exquisite meal deals when the island features themed three-course fixed price menus. If you want a more extravagant experience, make a reservation at those restaurants  with cozy atmosphere that are exclusively open during the Christmas season.
4. Party All the Way in Ibiza
Party seems to be a tradition in Ibiza. Ibiza just never runs out of festivities just like the whole of Spain. Although Ibiza is less crowded in the winter, it still offers a lot of activities and low-key parties for everyone of all ages to enjoy.
Check out the winter lighting events     that take place in Ibiza town, Santa Eulalia, Plaza España, and San Antonio all throughout December. You can enjoy ice skating at the Reina Sofia park too. Enjoy outdoor movies, live music, raffles, Christmas carols, Christmas concerts, choral concerts, dance spectaculars, parades, plays, and dramas, either indoors or outdoors. There are a whole lot of activities to choose from which the whole family can enjoy.
Here are some interesting facts about Christmas in Ibiza.
Christmas in Ibiza officially starts on the 2nd of December when Ibiza town holds its Christmas illumination and officially ends on the 6th of January (Dia de los Reyes Magos or Feast of the Three Kings) where an annual kings' procession takes place. On the night of the 5th, kids line up on the streets as the 3 wise men on huge floats parade through the streets of Ibiza town and throw gifts of sweets and chocolates.
No one ventures out into the bars on Christmas Eve in Ibiza.
There's an unusual sporting event that happens at 12:00 noon in Ibiza on Christmas Day. It's the swim across the icy waters of San Antonio harbour on Christmas Day.
5. Relax on the Best Villas
Last and finally one of the best things to enjoy in Ibiza are the exquisite villas that give you scenic views, relaxing vacations that make you feel at home, picture perfect houses with beatiful landscapes. Ibiza Villas offers the most exotic villas where you can enjoy Christmas vacation with your family or friends. These villas range from affordable ones up to the most extravagant ones that will leave you almost not wanting to leave the place anymore.
Villa Esgueva, for example, offers a majestic view of the sunset and the bright blue Mediterranean Sea. Aside from the relaxing view outside, enjoy the style of the furnitures and the interiors too.
If you feel like living on the country-side with a villa surrounded by exotic palms and an invisible-edge pool that will make you feel like you are living in a fantasy world, you can check out Villa Palmeres located in the hills of Santa Eulalia.
There are a whole lot of other villas to choose from depending on your budget and your needs. The best thing about it, as Christmas is a low-peak season, there are a lot of good deals and special offers on luxury accommodation in Ibiza.
If you want to escape a miserable weather, the very crowded mall sales, and Christmas commercialism in general, why not head over to Ibiza and enjoy a more relaxed Christmas with your family. Christmas in Ibiza is like living the dream. It's enjoying two of the best things in the world: Christmas and the beach.