Santa Eulalia is the third largest town in Ibiza which is well sought after by tourists for its calm and quiet environment compared to the other beaches in Ibiza. It has broad beaches, white sand, a seafront promenade, and a variety of restaurants and bars.
The area is also great for shopping. The bars in Santa Eulalia are more laid back because of the general laid back and peaceful nature of Santa Eulalia.
Santa Eulalia has an established reputation of being Ibiza's cultural and gastronomic center. IT is an artist's haven because of the artworks displayed in the shops and art galleries within it. Some of the best restaurants in Ibiza can be found in Santa Eulalia.
Beaches located in Santa Eulalia
Choose from a wide selection of modern villas located in the more peaceful area of Santa Eulalia in the island of Ibiza. Here are the beaches located in Santa Eulalia:
Santa Eulalia Beach
Santa Eulalia Beach is the a smoke-free beach that is directly located at the center of the resort of Santa Eulalia.
Since 2015, the beach of Santa Eulalia has been smoke-free in order to preserve the pristine white sand. The beach gives access to the disabled even into the water with the help and supervision of the lifeguards.
The beach has pristine white sand and the waters of Santa Eulalia Beach are shallow and clean which is perfect for families with small children and people who do not know how to swim.
What to Do
Relax at the beach using the parasols and loungers. You can also go for a walk at the promenade where you can find a large fountain, palm trees, and small gardens.
You can also enjoy water sports such as water-ski, sailing, banana boat, pedalos, and scuba diving. There is a diving school in the area if you want to take scuba diving lessons or do a certification for diving.
The beach is surrounded with bars, restaurants, and shops which means that you'll never get bored while on this beach.
Staying near Santa Eulalia
There are a couple of hotels and apartments that are a popular accommodation among couples but you can opt to stay in the villas in those areas that give you stunning views and the utmost comfort which will truly make your vacation unforgettable.
Check out for example Villa Vani, a 4 rooms moderns and stylish villa with BBQ area, pool and amazing views from all the villa anf bed:
How to Get There
Santa Eulalia can be found at the center of the resort which makes it easier to locate. There are buses that come from Ibiza Town, Es Caná, and San José and can take you to Santa Eulalia.
Ferries to Santa Eulalia are also available from Ibiza Town, Es Caná, and Cala Llonga. You can also drive going there but the parking is located in the town.
Mariner's Beach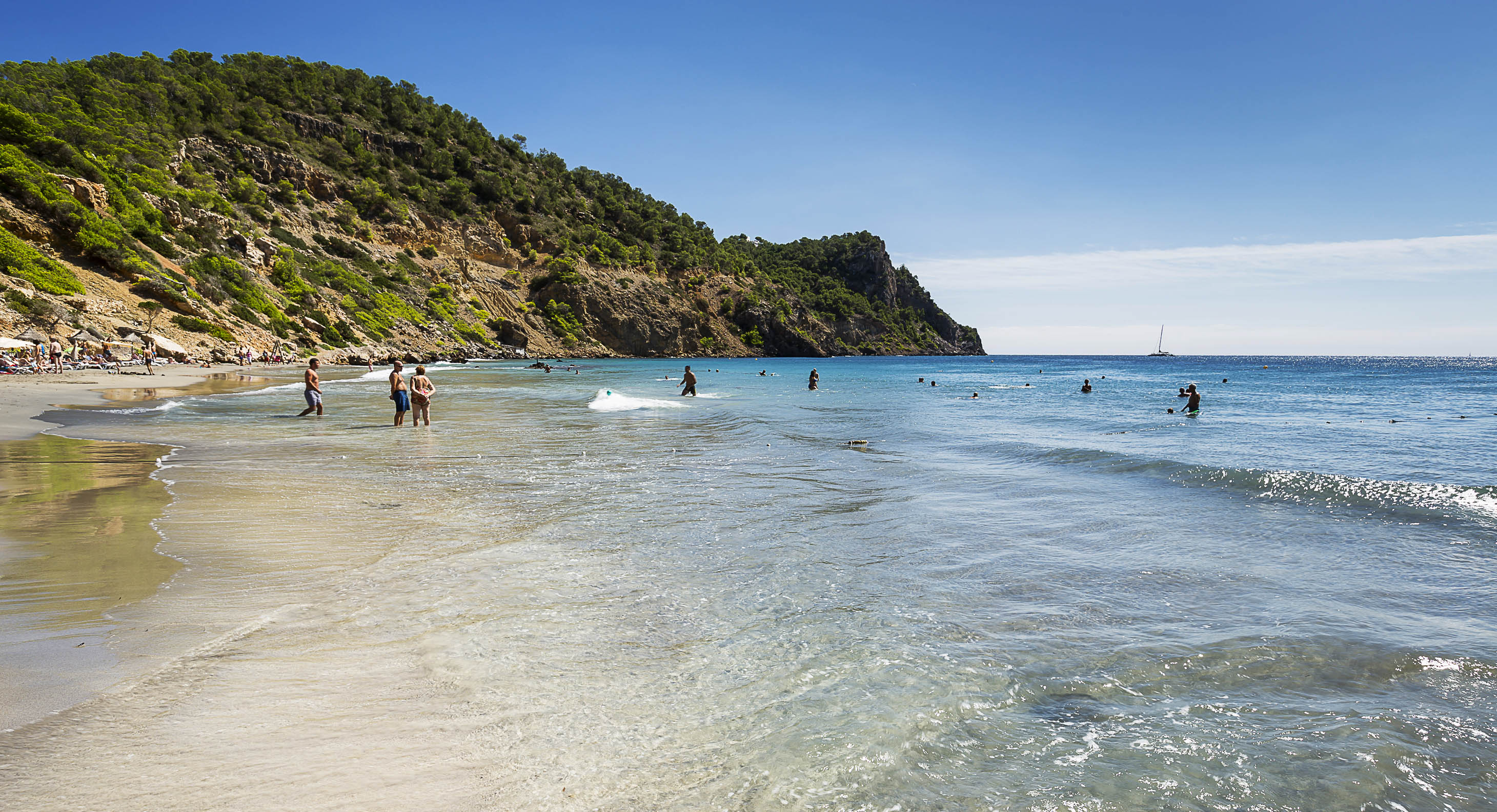 Mariner's Beach is also known as Platja des Riu de Santa Eulalia. It is located at the southern end of Santa Eulalia. It's a vast beach with light-colored sand which is located at Ibiza river's mouth.
There is a river-walk from the Mariner's beach that leads to a restored Roman bridge. Halfway through the river-walk, one can find a path from the riverside to a small pathway where you can reach the neighboring resort, Siesta. There is also a picture-perfect tiny harbour at the river which is a meeting place for sailors and canoeists.
What to Do
Just like Santa Eulalia Beach, one can relax and enjoy Mariner's beach by using the parasols and loungers.
You can also chill and enjoy the water through a banana boat or pedalos.
Mariner's beach is located at the rightmost part of the promenade which is just a 10 minute walk from the town center. This makes Mariner's beach accessible to bars, restaurants, and shops.
Where to Stay
There are hotels and apartments in Santa Eulallia Check out the various villas within Santa Eulalia that offer a peaceful and quiet ambience away from all the noise and parties.
There are villas with a view of the countryside, the mountains, or even the fields. A perfect example is Villa Novells, a modern luxury villa with a superb landscape:
How to Get There
You can either walk or ride a bike from Santa Eulalia or the nearby beach, Siesta. You can also ride a car or a bus if you are coming from other resorts. During the summer, boats are available from Ibiza Town, Cala Llonga, and Es Caná that can take you to Santa Eulalia.
Beach Clubs & Bars in Santa Eulalia, Ibiza
We recently talked about the best 10 clubs in Ibiza, but here we give you the best 4 clubes in Santa Eulalia:
Nikki Beach, Santa Eulalia, Ibiza
Nikki Beach Club is a popular, world-class luxury brand. Nikki Beach in Ibiza is located in a beach front area in Santa Eulalia.
It has a signature beach club, a lifestyle botique, and a high-end restaurant. It is overlooking the Balearic sea.
Nikki Beach is known for its white theme: white flowing drapes, white sunbeds, and bohemian plush and teepees. It's ideal for lounging and relaxing in comfort and style while enjoying cocktail drinks and listening to the beats of resident DJs, jazz music, or live music.
It boasts of an impressive international menu that features seafood, sushi, rotisserie, salads, exquisite dishes, and a whole lot more.
The parties held at Nikki Beach are glamorous and top-class. They hold events in the summer such as the White Party, the World Famous Amazing Sunday Champagne Party, and the Yacht Party.
The awesome venue of Nikki Beach makes for great parties and other celebrations where guests are allowed to book the whole beach club or just a part of it.
Babylon Beach, Santa Eulalia, Ibiza
Babylon Beach is a beach club with a bohemian style and is located just outside Santa Eulalia on the road to Es Canar. It has a really small entrance and you will see a small watering hole lined up with a long row of sun loungers set in front of the beach.
It is located on a small cliff with spectacular views of the sea. Visitors can enjoy sunbathing during the day and fine dining at night while listening to mellow music. Unlike other bars and beach clubs, it doesn't have branded parties or big-time DJs. Babylon Beach maintains a relaxing and chill atmosphere.
The drinks can be expensive but the food fits most budgets. It has a floating pontoon where you can enjoy your drinks while you leave your kids at the supervised playing area.
Pura Vida Beach Club, Santa Eulalia, Ibiza
Pura Vida Beach Club is located at Playa Niu Blau. It has a chic design with lounges which are perfect for drinking cocktails or champagne and creamy sunbeams where you can relax and enjoy.
Pura Vida Beach Club hosts international DJs who play music all day long. Their restaurant features salads, fresh seafood, and midday starters during the day and fine dining that you can enjoy directly on the beach at night.
Pura Vida Beach Club is closed during the winter and only operates from mid April to October.
Atzaró Beach Club, Santa Eulalia, Ibiza
Atzaró Beach Club is located at Cala Nova Beach in Es Canar, Santa Eulalia. It has a large open terrace where you can enjoy a stunning views of the sea.
The restaurant offers Mediterraneanan food that is mostly composed of fresh seafood including local fish like the Gallo San Pedro and Rotja.
Atzaró Beach Club offers live music performances every Friday and Saturday with music ranging from soul, jazz, and rock. From Wednesday to Sunday, its restaurant sets a Kids corner for children to enjoy. The Kids Corner offers games, paintings, and different themed activities and workshops that kids and even grownups will truly enjoy.