Saint Jordi is a traditional Ibizan village situated at the south of the island. Just a few hours away from Ibiza, this charming town is well worth a visit. From the well-preserved church that dates back to the 14th century to the plethora of restaurants and bars, Ibiza is a feast for the senses. As you walk through the tree-lined pavements of Sant Jordi, you can't help but pause for a while and enjoy the cool breeze and the warm ambiance that envelops this city. This ancestral town boasts of large supermarkets and shops that sell inexpensive, mostly organic, produce. Take yourself on a gastronomic trip across Ibiza–from homemade burgers and refreshing cocktails to the best grilled quality meats in Ibiza.  
Your wandering feet will lead you to Saint Jordi's Hippodrome. This touristy place used to be an arena for horse racing, but it is now known as Mercadillo Sant Jordi, the island's weekly flea market. This quaint marketplace is open to visitors every Saturday of the year from 9 am to 3 pm in the afternoon.
Market Sant Jordi Ibiza
This hippy market in Ibiza is a melting pot of hidden gems. Tourists and locals will be awed by the wide selection of vintage treasures. From the colorful costume accessories to the old fashioned jewelry that adorned the necks of 19th century women, you can feel the regal aura once you try on a luxurious vintage dress with puffed sleeves and valuable lace trimmings. Complete the "Anne of Avonlea" look by topping it off with a hat that wears flowers.  
This second hand market in Ibiza will lead you to a path down memory lane. The shops are bursting at the seams with quality pre-loved rare items.  You might be able to find that classical book that you were looking for.  
MercadIllo Sant Jordi has a wide selection of old books, antique furniture and anything that spells vintage. You can also score some old and classical music and records or intricate jewelry from India. The shops are lined along the sandy stretch of the island.  
All types of curiosities are sure to catch your attention. Take a stroll around, and you will surely find something you fancy. It is a bargain store, so haggling is very much welcome here. Everything is reasonably priced, and who knows? You might get 50 percent off if your haggling skills are great. In Resale market Sant Jordi, you can buy, sell and exchange a thousand of items, clothing, furniture, and pre-loved belongings.  
This lovely island hosts temporary stalls where you can sell items that you no longer use but are still in good condition. Resellers can secure a spot to sell their stuff at a very small amount of money. The diversity of this market is vast and of course, interesting.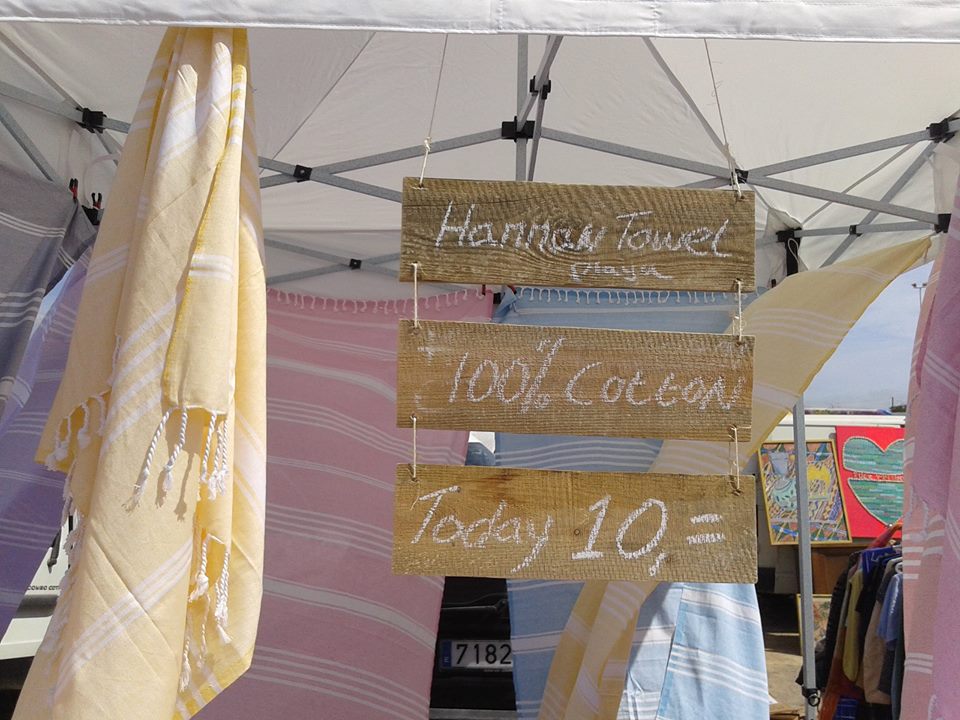 A genuine flea market
Market Sant Jordi Ibiza is the very first market of its kind in the island. It is considered one of their tourist's spots where the locals and people from around the globe meet. Not only is it a place where you can buy genuine vintage items, it is also a place where you can spend some time with your friends or new acquaintances. You can lounge at the Ramonet and Vincent and sample their famous mouth-watering bocadillos in their saloon. The menu in this café is reasonably priced and well worth every penny. It offers a great view of the island. Enjoy your breakfast while enjoying the majestic view of the sunrise at the beach.   Visitors need not worry about where to park their vehicles; this place has a huge parking lot to accommodate a number of tourists.  
What would you like to sell?
If you're interested in selling some of your pre-loved items, the Resale market Sant Jordi has several guidelines that you might want to check out.
Every Friday, between 12.30 and 2.30 pm, we are designating stall numbers on a first come first served basis. You will be receiving the market plan indicating where your designated stall is. Just follow this plan, and it will take you to your assigned slot. The seller's stall is about 4 meters wide. The various places in the market are numbered so it will be easier for you to locate your stall. But since it is a huge place, if you cannot find your designated spot, then you can always ask for our assistance. Don't hesitate to ask us for help.
We recommend that you bring hangers, tables, and chairs to display your products. We can still keep our second-hand shop an eye candy by being creative. Maybe go for color themed chairs and tables, or put up a unique banner or nameplate indicating the name of your stall. Do take note that each stall must not exceed 4 meters, and there must be a 50-cm gap between stalls. Let us give each other a little room to breathe.
We highly encourage you to display your items on a table. If all else fails and you find your items lying down on the ground, make sure that it is neatly folded and orderly. We will want our stalls to look presentable and neat so that they will attract tourists and urge them to take a peek at what you are offering.
Preloved items must always be in good condition and priced at a reasonable range. That is the essence of a flea market; we want our buyers to enjoy good finds at a reasonable cost. You must always inform your buyers of the current condition of the items. Some buyers will still buy vintage pieces even if it has a little damage. More often, classical pieces have a little chip here and there. You just have to be honest about it. Even if you don't tell them, they will still notice. You might even make a sale on that skirt with a worn-out hemline.
Do keep in mind the things that you cannot sell at the flea market. For one, you cannot sell or even give way any food or drink, no matter how tasty they are, without the approval of the organization. You cannot sell or put up for adoption any animal banned by the Spanish government.
Opening & Closing time
The market is open to resellers every Saturday of the year, from 7 am to 8.45 pm. We will give you an ample amount of time to set up your shop. Anyone over 16 years of age can participate. You must be able to agree to all of these terms in order to secure a stall at the Resale market sant Jordi. We encourage you to keep yours stalls clean and tidy. Shouting louder is not the key to being heard by your buyers. So we encourage everyone to keep a pleasant and friendly tone and accessorize with that friendly smile on your face. Keep in mind to have a harmonious relationship with your co-sellers; no competition is necessary. In the event that these regulations are not met, our MST team will expel the seller immediately.
Accessibility
Only one vehicle is allowed per stall. You must indicate the license plate number, the color of your car, and the model. There is a speed limit that must be adhered to, not exceeding 10 km/hr. Keep in mind to steer through the parking lot perimeter in an anticlockwise direction. The organization is not responsible for any damages your vehicle can incur during the sale. Your car must be in the parking lot by 8 am, and you cannot access it from 9 am to 4 pm.
It is an open-door event, and they do not have any control on the weather conditions. They suggest you bring umbrellas and covers in case of an unfavorable weather. You are responsible for your own items and any injuries it might inflict on others. In the event of a bad weather, the organization reserves the right cancel any event. Reservations will be postponed on the following Saturday. Any modification or cancellation will be announced on the organization's webpage. For more details, you can email them at mercadillosanjordi@gmail.com, and they will respond you.