If you are looking for a long beach with soft white sand and crystal-clear turquoise waters, then stop looking. You have just found it. "Cala Tarida beach" is a quite beach, orientated towards recreation for the entire family. It is the longest beach on the west side of the island. The cala—"cove", in the island's dialect—is facing south, which means that you will be able to enjoy the sun for the most part of the day. The rocky hills covered by a pine tree forest that surrounds the beach, act like shelters that protect the beach from the wind.
How to get to Cala Tarida
It is not difficult to get to Cala Tarida in Ibiza. The beach is almost 18 km. from the airport—about 20 minutes if you travel by car.
If you want to drive to Cala Tarida Ibiza, you just have to go to San Josep de sa Talaia and follow the signs, or if you come from the north, then make your way to San Antoni and follow the signs towards Cala Tarida.
If you don't want to drive, you can take a bus in Sant Antoni (line 5) or in Ibiza (line 38), or take a Ferry. There are a few ferries that go to the main towns on the island which are Ibiza (town), Sant Antoni, and Santa Eularia, but they also stop in some of the beaches on the way. So, you can forget about driving, check the schedules and go by local transport.
Services in Cala Tarida
Since it is a beach that caters primarily to families, you will find some shops where you can buy cheap snorkeling equipment, beach balls, inflatable dinghies and a complete sand-castle-builder-kit—well, a plastic bucket and a small shovel wrapped in a nylon net, but you have to use a "cool" name to inspire your children. They also sell all sorts of souvenirs to remind you of your lovely holidays or to rub it in your workmates faces. In Cala Tarida you can also rent deck chairs and umbrellas to sunbathe on at a decent price.
Activities in Cala Tarida
For those who don't want to spend all their days sunbathing, there are plenty of activities in this cove. However, this is not a beach for sports like windsurfing.
There are volleyball installations to play beach volley and ample spaces to play beach-paddle or refine your Frisbee throwing technique. If you are looking for adventure then hire a small inflatable boat (4-5 people) and sail to off into a hidden cove.
It has to be said that in a location like this, snorkeling is a must. Not only because of the crystal-clear waters, but also because the variety of sea bottoms. Relax by floating along while observing the underwater life and try to spot a sole fish as it transfers from a rocky ecosystem to the sandy planes and changes color in the process. If you are not used to the Mediterranean sun, remember to use solar protection, a wet-suit or a UV-proofed T-shirt, or else you may be end up being called a "gamba"—prawn in the local dialect—by the locals as the hue of your skin shifts from skin color to a glowing pink.
If you want some solitude you can wander off towards the north and discover some more subtle coves. You can swim to explore any of the small rocky islets with interesting forms.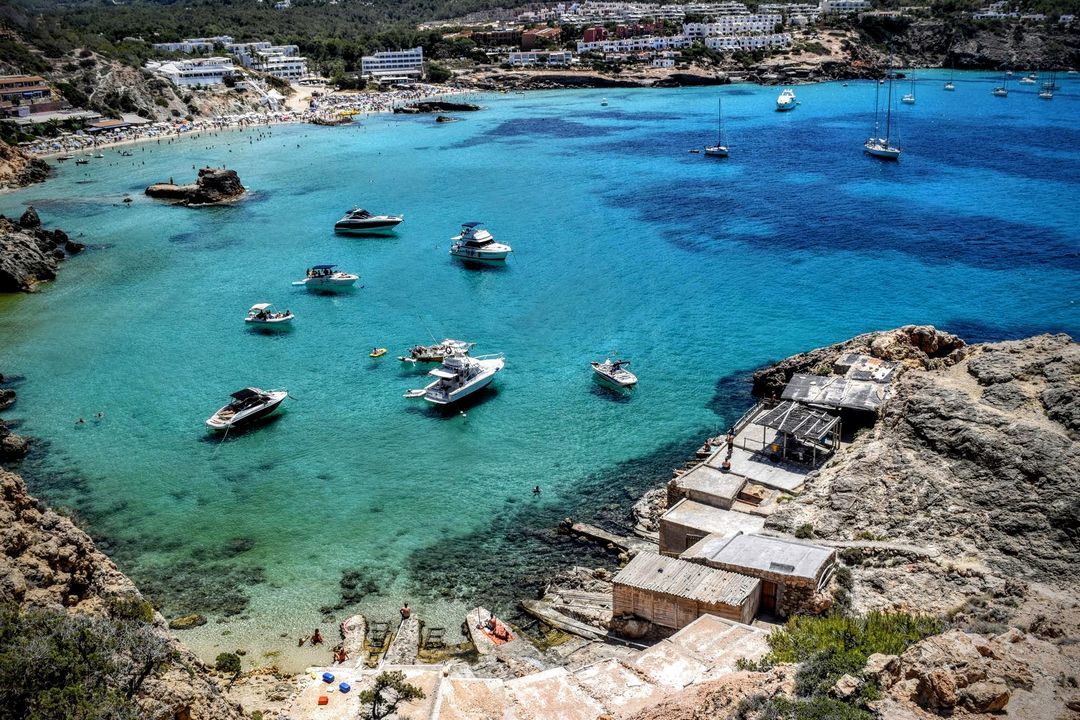 Bars & Restaurants in Cala Tarida
When you fancy something to eat or just a night on the town, keep the addresses of the following restaurants in Cala Tarida on you for your go-to watering holes:
Restaurant Can Yucas is an excellent choice for taking quiet cocktails in a cosy atmosphere with ambiance in abundance. You can accompany your drinks with dishes to suit all palates, whether you are looking for an elaborate salad, fish, pasta, paella, wok style or just a good old hamburger.
Ses Eufabies is kid friendly and casual for those families looking for a comfy corner of Ibiza to eat well, drink back a 'larger-than-average' pint and just relax.
At the aiSea Terraza-Bar you will find a brilliant place to have casual yet quality cocktails, and it offers an area with an incredible view to watch the sunset and most nights the bar is buzzing with live music, theme nights and unmissable shows. If you are taking your family to a show, then treat them to one of the best smoothies in Cala Tarida while you sip down a delicious cocktail.
Looking for great views?
If you are a late eater, then before visiting one of the restaurants in Cala Tarida you will be looking for clubs in Ibiza, in Cala Tarida, you will be extremely happy with what we class as the top of the selection of clubs in Cala Tarida. The must-see clubs are all competing to be THE 'Tarida Beach Club Ibiza', but there is one that particularly rises above the rest to earn that title.
Placed superbly in the heart of Ibiza's coastland lies the Cotton Beach Club Ibiza. You will love the vibes this place gives you with its live music and such a great view of the gorgeous Mediterranean Sea edged delicately by the white sandy beach. As the name suggests, every furnishing is 100% white cotton for comfort and style. Your holiday will reach new highs as you lay down on the comfort of your day bed and begin to be mesmerized as the sun melts away into the sea and gives the sky an attractive intensity.
Villas nearby Cala Tarida
After you have been wined and dined and chilled out sufficiently for one wave-licked day, then you will be in search of your temporary 'home'. If your 'home' is one of the following villas located near Cala Tarida, then you will be having the best holiday ever!
Villa Carma every detail in this overwhelming property has been thought to ensure dream holidays in Ibiza with your family and friends. The house comprises of 4 double bedrooms full with bright natural light.
Villa Esgueva with a super views over the well-known San Antonio bay facing the blue bright Mediterranean Sea, where you will relax and see striking sunsets in the evening, known all around the world for being magic and extremely beautiful. This villa has been built carefully and decorated by its owners over the last 10 years. Every detail has been wisely selected paying great attention to the style of the furniture, from the cool 'Valencia Cream' marble floors to the handcrafted Iroko doors.
Whichever Villa you choose, you will be struck by the simple beauty of the villas of offer and how well they stand out of their surroundings to overlook one of the most emotion-stirring lands in the Mediterranean Sea.
Conclusion
Certainly, Cala Tarida is a beach that you don't want to miss when visiting the island of Ibiza. It is ideal for a day trip or daily trips, as it offers you all that you could possibly need. And—after enjoying a beach day—what better way to finish your experience than by enjoying local cuisine at one of the Islands favorite restaurants and enjoying your drink of choice with a special someone as you observe the marvel of a sunset before resting in a comfortable villa bed.